Reading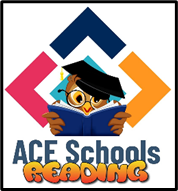 Why do we read?
We read because reading improves listening skills, cognitive and language development, vocabulary, attention span, creativity, life lessons, and social and emotional development. Reading lays the foundation for cognitive development and significantly improves language and vocabulary development. Learning to read accurately, fluidly, with good comprehension and stamina is also a crucial set of skills for school success.
Intent
At ACE, we recognise that pupils who read well and often will also achieve well at school and beyond. It is our belief that every child should be able to read for pleasure and to a high standard. Reading and the development of language and vocabulary provides access to a rich and vibrant world of possibilities for learners.
We employ a range of strategies to promote, encourage and support a love of reading, while aiming to establish all children as fluent and accurate readers. By providing opportunities to access structured systematic phonics programmes, learning can be adjusted and interventions can be delivered, with the intention of pupils continually progressing with their reading and writing skills.
We are dedicated to enabling all pupils to become confident and lifelong readers. Vocabulary building throughout school enables our pupils to develop a rich and varied understanding of language, with opportunities to transfer this understanding to other areas of the curriculum and to prepare them for their future journey in life. Young people are encouraged to feel confident and to able to contribute by using their reading skills to access all areas of learning.
Implementation
At ACE, we value and encourage young people to read for enjoyment and recognise that this starts with the foundations of acquiring letter sounds, segmenting and blending skills. Through the teaching of systematic phonics, our aim is for young people to become fluent readers.
What is Phonics?
Phonics is a way of teaching children how to read and write. Pupils are taught to read by breaking words down into sounds or 'phonemes'. They are then taught how to blend these sounds together to read the whole word. At the same time, pupils are taught how to write the letters that match each sound. They are taught how to form every letter correctly. The systematic teaching of phonics has a high priority at ACE and most especially for those pupils at the beginning of their school journey. However, if a pupil in one of the later years might also benefit from phonics, then this can be structured into their learning programme as well.
What is Read Write Inc. / Fresh Start?
Read Write Inc. / Fresh Start is a catch-up and intervention programme for pupils who are still developing their reading skills. It offers a simple but powerful solution to accelerate reading progress. Students are taught at their challenge point, so they learn to read accurately and fluently. They are also given opportunities to develop comprehension, spelling and punctuation skills through targeted activities.
The programme has been developed by Ruth Miskin and follows the appropriate guidance and recommendations put forward by the DfE.
The following link directs to the site: https://www.ruthmiskin.com/programmes/fresh-start/
What is Accelerated Reader?
At Ace, we make use of Accelerated Reader. It is available for pupils of all ages and across all our different locations. Accelerated Reader enables young people to have a personalised reading book which is matched to their reading ability.
Accelerated Reader is an online programme that encourages and monitors a young person's independent reading. The programme works by using 'Star Reader' tests to identify a pupil's ZPD (Zone of Proximal Development) range, signposting children to a selection of books that will not only match their reading ability but also challenge and develop their vocabulary. Once a student finishes the book they are reading, they can then take a short online quiz which checks for reading and understanding of the text before choosing their next book.
If you would like to know more about Accelerated Reader you can follow this link: http://www.renlearn.co.uk/accelerated-reader/
From the Accelerated Reader website, you can also download the Accelerated Reader App and the Book Finder.
You can also find some useful information at the bottom of this page.
The National Literacy Trust's second independent research report into the reading habits of students using Accelerated Reader states that:
"Children and young people who use AR tend to enjoy reading more, do it more often and think more positively about reading than their peers who do not use AR. They are also more likely to see a link between reading and their successes."
- Dr Christina Clark, National Literacy Trust
Pupils who use Accelerated Reader are more likely to:
Enjoy reading.
Have a favourite book.
Agree that reading is cool.
Read regularly at least once a week outside class.
Agree that they will get a better job when they grow up if they are good at reading.
Accelerated Reader information for parents.
What is Word of the Week?
At ACE, Word of the Week is a strategy consisting of a series of resources sent out each week to provide a range of reading material accessible by students. Each week there is a Word Poster to display in classrooms and learning areas, as well as some additional resources to support, encourage and promote reading.
An option is provided for additional literacy support where needed.

Word of the Week helps pupils to become more comfortable and familiar with reading a greater range of different texts over time.
Regular Reading
At ACE, young people are given daily reading opportunities. In addition to opportunities for individualised reading, pupils are also read to by staff who show their passion for books and act as role models by demonstrating intonation and expression when reading out loud.
Reading at home
Reading at home is widely recognised as being at least as important as reading at school and potentially even more important. It is at home that young people are more likely to start associating reading with enjoyment and relaxation rather than purely with learning.
Regular reading both at home and in school will improve a student's:
Understanding of vocabulary and spelling,
Understanding of punctuation and sense of sentence structures,
Ability to use their imagination,
Understanding of the world around them and of other cultures,
Ability to relax and focus on a single task for a sustained period of time.
How often should my child read at home?
Children are far more likely to become successful readers when reading forms part of their daily routine. To encourage a love of reading, and to develop good reading habits, young people of all ages should aim read for 20-30 minutes daily.
Should I read with my child every day?
For younger children, sharing books can be a very special time spent with your child. Daily reading with an adult or older sibling is recommended until your child can read independently. Older siblings are also good role models who could help younger children learn to read.
You will find some useful ideas at the bottom of this page to help support reading at home:
Impact
Phonics is measured by Phonics Screening Tests which are carried out to determine whether a young person requires an intervention. Pupils will aim to make progress through the different phases of phonics according to ability and develop from their own individual starting points. Over time, pupils aim to become increasingly confident and resilient in tackling unfamiliar words by applying knowledge, skills and understanding.
Accelerated Reader assesses the comprehension and reading skills of pupils through the 'Star Test', providing pupils with an individual targeted 'Reading Range'. This (ZPD) range gives pupils the opportunity to choose a book that is of interest to them and that will also continue to support them in their ongoing reading progress.
We aspire for our pupils to read at an age-appropriate level with fluency and which enables them to access the broader curriculum, while also developing a life-long love of reading where pupils read widely and often with accuracy, empathy and understanding.