Headteacher
Ruth Westwood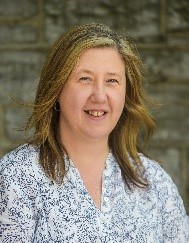 I was born in Leicestershire but my family moved every couple of years so I experienced a variety of schools in the UK and abroad. I qualified as a Systems Engineer at Warwick and worked in the food production and tyre manufacturing industries for several years working on quality assurance, process development and production planning and management. After a break I completed a PGCE in maths and taught in a range of secondary schools in the southwest before moving into alternative education. During my time at ACE I have had a variety of middle and senior leadership roles before leading the school to a Good Ofsted Judgement in February 2019 as Acting Head.
As our Deputy Head my responsibilities include safeguarding as Designated Safeguarding Lead, data management, exam provision and finance and budgeting.
Outside of school I keep busy with gardening, crafting such as silver-smithing and sewing, singing in a gospel choir and looking after a range of animals, with as much reading as I can fit in between.